SCREW IN TEETH!
CAN YOU SCREW IN TEETH?
CAN YOU SCREW IN TEETH?
More and more patients are asking us "do you do screw in teeth"? They've seen the ​​magazines and the ads on TV and either they can't smile or they can't eat very well and want a solution they can live with.
THE WAY IT WAS
False teeth in the past meant dentures or "a plate" as some may know them.  My Nan had a set of upper and lower teeth.  The uppers were quite successful but she wore the lowers mostly in her handbag and only in her mouth for photo opportunities!
AMAZING NEW TECHNOLOGIES
Nowadays we have so much technology available and amazing techniques to allo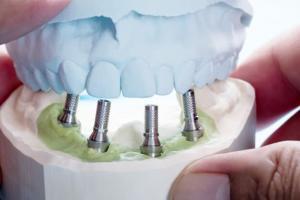 w us to regrow lost bone and replace teeth on Titanium inserts called implants.  But there is a huge spectrum of difficulty between replacing a single recently missing tooth and multiple teeth lost for a number of years.  To be sure of getting what you really want you need to have a very thorough assessment of your teeth, jaws, bite, and part of this will involve 3D imaging and a detailed assessment by an experienced implant dentist with both restorative and surgical training.
COMPREHENSIVE ASSESSMENTS AND COSTINGS
Comprehensive assessment and imaging is fundamental if an implant dentist is to provide you with a detailed treatment plan and an estimate of the likely cost involved.   Proper assessment normally takes an hour, that includes 3D imaging within the practice and then you will have a clear idea of what options you have and how many stages are involved along with some guide on the time that treatment will take.  Every patient is different and may involve a wide spectrum of approaches and techniques so careful assessment of existing teeth allows an integrated treatment avoiding unexpected problems later.
HIGHLY SKILLED AND EXPERIENCED
It is ideal if one person is trained to offer all aspects of care including the restorative planning, surgery and the provision of the replacement teeth.  Such a wide spectrum of skills and training takes many years to obtain.  At NQ Surgical Dentistry, this training and experience is available to offer all types of implant treatment.  Our patients are provided with written information to supplement the detailed discussions held with Dr Colin Priestland to ensure they have a clear understanding of what is being planned, how long the treatment is likely to take and if there is any other suitable treatment that may provide a good clinical outcome.
DR COLIN PRIESTLAND
Dr Colin Priestland is a senior lecturer at JCU Dental School and teaches the postgraduate diploma in dental implantology.  He received his Masters degree London with advanced training in Berne (Switzerland) and has considerable experience in oral and implant surgery.  He works in conjunction with Gold & Ceramics Dental Laboratory in Brisbane, a state of the art laboratory using only high quality Australian Therapeutic Goods Administration approved materials and Australian trained dental technicians.  No work is sent overseas.
WE'RE HERE TO HELP
If you are interested in finding out if you can retrieve your lost smile or ability to chew effectively while avoiding having to wear a denture, give NQ Surgical Dentistry a call on 07 4725 1656.
For your information: Dental Implants Townsville
Contact the friendly team at NQ Surgical Dentistry today on (07) 4725 1656 or call in to see us at 183 Kings Rd, Pimlico QLD 4812.

BOOK AN APPOINTMENT
CALL US TODAY
07 4725 1656